Discover more from Vertigo Gaming Inc. Newsletter
The latest news and behind-the-scenes looks at Vertigo Gaming Inc.
Over 2,000 subscribers
Cook, Serve, Delicious! 3?! 1.0 Out Now on PC, PS4, Switch, and Xbox One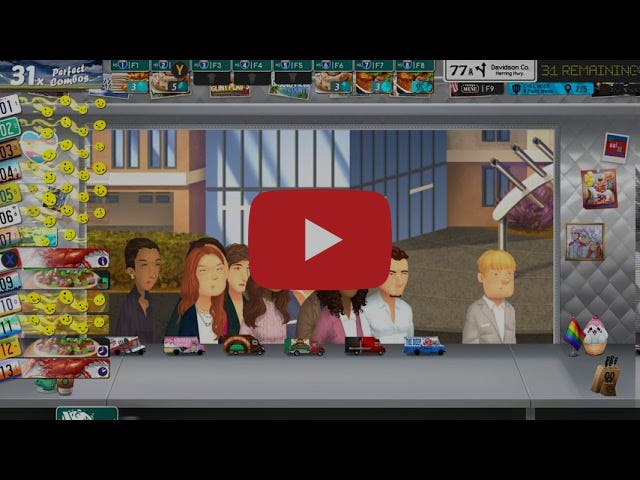 Cook, Serve, Delicious! 3?! 1.0 Out Today on PC, PS4, Switch and Xbox One!
Mac and Amazon Luna Editions Arriving Shortly
Cook, Serve, Delicious! 3?! v1.0 is out today on PlayStation 4, Nintendo Switch and Xbox One as well as Windows PC via Steam, GOG, Humble Store, Green Man Gaming, GamersGate, Fanatical, and Nexus -- check out the game's launch trailer above and for more info on the latest changes to the game, head over to our launch day Steam post!

While we had planned to also release a Mac version of the game today, we found some last minute bugs with that build specifically and want to take the time to get it right, so we hope to release that before the end of the month. The Amazon Luna edition is also set to arrive soon.
We're also actively working on more games in the Cook, Serve, Delicious! series; not direct sequels, but unique and exciting takes on the franchise we're looking forward to sharing more about in the future. Two games are currently in the works: one that changes the formula in a very unique way and another that doesn't play like anything before it, in a completely different genre. We're also looking at returning to mobile, as the first CSD is quite old and we'd love to see a new title on that platform.
October Discord Challenge
Our 2nd annual Halloween Bake Off is underway on the CSD Discord! Post photos of your entry by the 31st for a chance at CSD 3 game codes, Sundae plushie, or replicas of CSD 3's in-game gold and bronze medals!